20 x Krugerrand 1 Oz - Free Shipping
SKU:

UPC:

Availability:

2 – 5 working days after payment clearance

Shipping:

Free Shipping
Frequently bought together:
Description
The Krugerrand is a household name and can be bought and sold in almost every country on Earth. Buy twenty Ounces and we will cover the shipping costs! This price includes 20 Krugerrands of One Ounce size.
The price that you see is the price that you will pay, all inclusive. Prices are maintained 24 hours a day and seven days a week. Bullion Krugerrands have no certificates or packaging. Random dates from 1967 - 2020.
Item Type: Krugerrand Bullion Gold coin
Ships to: South Africa only
VAT: 0%
Packaging: -
Certificate of Authenticity: -
Mass of 1 coin: 33.930 gram x 20
Diameter of 1 coin: 32.69 mm
Content of 1 coin: Au 916.67 Cu 83.33 (22 carat Gold)
Order on line. Just click 'Add to cart' and follow the prompts. Pay via normal EFT. How to order.
Up to date Spot price of Gold
Please refresh this page for the current rates.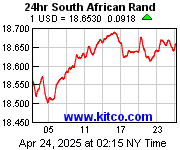 Disclaimer: Images are for display purposes only. All products include Certificates of Authenticity even if not displayed, unless stated otherwise. Certificate and set numbers may vary. All prices are for one unit, even if more than one product is displayed in an image. All proof coins are encapsulated, even if shown otherwise. All coins and sets are official South African Mint and/or Rand Refinery products with original packaging and certificates, unless stated otherwise.
View All
Close